So many guides, right? Well if you haven't figured it out by now, there are many dimensions to selling on Amazon and one of the most important is shipping. After all, shipping costs eat a healthy portion of your overall profit, which is why it's important to what you're doing when it comes to shipping.
In this article we're going to cover the basics of shipping and using freight forwarders. So grab a cup and Joe and get ready, because we'll be cramming a lot of knowledge in with this one.
The topics we'll be going over include:
How to select a good freight forwarder
Creating a shipment plan on Amazon Seller Central
Shipping the goods
Last-mile delivery strategies
Warehousing and storage
How to select a good freight forwarder
You should take your time when selecting a good freight forwarder, as a bad forwarder will cause you an endless amount of headaches and ass-cramps. Having a good freight forwarder is essentially an extension of your business, as your life is in their hands while your goods are in transit.
The benefits of a good freight forwarder include:
Reliability - you need to be confident that your package will reach its destination
Advisor - a good freight forwarder has been around the block more than once and can act as an advisor
Knowledge of complex issues - if you're shipping overseas then your product is likely subject to many regulations, licenses, international treaties and more
Now, before you start looking for a freight forwarder there's a few things you need to know:
Air or sea - most freight forwarding companies will offer the option of sending your goods by air or by sea.  Although usually more cost effective, deliveries by sea can take much much longer so you would need to make customers aware of a longer wait for their goods.  Also, at present, the paperwork required for ocean freight is a lot more time consuming (and, at times, baffling) than that needed for air freight.
Beware of listed prices - many forwarders list teaser prices, which typically run out over time or after a certain number of runs. Regardless, make sure you have all of the costs in writing before moving forward.
FMC – Federal Maritime Commission (FMC) is the governing body in charge for all vessel and non-vessel carriers, freight forwarders and operators and, as such, are responsible for issuing and maintaining guidelines.
Freight Forwarder – A Freight forwarder, freight forwarding company or forwarding agent is an organisation responsible for the shipment or carriage of goods to either a port or individual address.
Full Container Loads (FCL) - does not mean that the shipment fills an entire container, but rather FCL shipping is a shipment mode, whereby only one shipment, or part of a shipment is included in the container.
OTI – Ocean Transportation Intermediary (OTI) is an FMC licensed company engaged to transport goods by sea.
NVOCC – This stands for Non Vessel Operating Common Carrier (NVOCC) and is basically a freight forwarding company which does not own its own fleet of vehicles or vessel and, instead, enlists the services of a commercial or industrial transport company.  These are similar to freight forwarding company but tend to have more competitive ocean freight rates and are authorised to issue bills of lading.
Note the main difference between a freight forwarder and NVOCC is that a freight forwarding company acts as a broker or agent whereas the NVOCC physically transports the goods.
IAC – Indirect Air Carrier (IAC). The services of an IAC are used by organisations within the USA who do not hold an FAA air carrier operating certificate.  The IAC will use a commercial fleet and must meet the TSA security requirements for handling goods and cargo.
IATA / CNS – International Air Transport Association (IATA) / Cargo Network Services (CNS).  This is the airline industry's main trade association which is responsible for setting guidelines and monitoring laws for the secure transportation of air cargo.
Independent Freight Forwarder – As the name suggests, an IFF is an independent freight forwarding company which is not part of the Global 25 Freight Forwarders. Instead of keeping offices or headquarters in numerous locations, they use different agents in each country or location who are best placed to know the lay of the land and the different regulations involved.
Less than Container Loads (LCL) - refers to any shipment that does not take up the full capacity of a shipping container.
Less than truckload (LTL) - is a type of shipping mode whereby a truck is available to carry more than one shipment.
Questions for freight forwarders
As you're going through each freight forwarder you'll probably have a million questions, so we've identified a few must-ask questions that you need answers to before choosing a freight forwarder.
Do they deliver to the destination(s) you need?
Just because it says "International Shipping" on their site, does not mean they deliver to where you need them to.
What insurance options do they have?
Make sure your products are covered under there general liability insurance, i.e., get it in writing that your products are covered under their insurance.
Do they belong to any memberships or networks?
Most freighting companies belong to some network or association, but not all memberships are created equal. Reputable freight forwarding associations include the WCA, NCBFAA and FIATA.
Do they have agents in your destination country?
This is vital for any DDU, DAP, DDP shipments and also if your customer overseas has any unexpected issues like a port strike, customs issue or delay.
Are they good with communication?
Any successful partnership has good communication and a freight forwarder is no exception. Companies that provide you with a email and phone number to an actual person are the best to work with.
Do they provide Tracking?
Ask them what kind of tracking software they use and whether its updated in real-time. A good tracking system will provide purchase order (PO) management, exception notifications, customized reports and dashboards.
Have they worked with clients similar to you?
If you can find a forwarder who has dealt with another business similar to yours, then this is a big plus. If it's the first time a forwarder has shipped your type of product then you may run into issues like packing or other pitfalls.
Ask them how they plan to pack your product for transport?
This is a biggie! A lot of sellers forget to ask this one only to find out that their product was packed properly and broke in transit. Don't settle until you're satisfied with the packing.
Ask them if they are aware of any international issues that might effect your route
This will be extremely helpful if you can identify issues down the road for obvious reasons.
Do they have experience with FBA?
Amazon has their own set of requirements, so if you can work with a forwarder who has worked with FBA before, that's a plus... However, at this point you'd be hard-pressed to find a forwarder who hasn't worked with Amazon.
Can they help you grow your business?
As mentioned before, you should look at this as a partnership. Make sure they have the right network of partners and access to multiple shipping lanes.
If you want to avoid the grueling process of finding a freight forwarder, you can use companies like Freightos to compare instant freight quotes from 75+ forwarders and carriers, real customer reviews and expert solution.
Creating a shipment plan on Amazon Seller Central
Alright, by now you should have selected a quality freight forwarder, so now we need to actually schedule the shipment. Now we'll be showing you how to create a shipment plan on Amazon Seller Central. If you're shipping to your own warehouse, then you can skip this section.
For this tutorial we're assuming that you've already created your listing and Amazon has approved your product for sale.
Go to Amazon Inventory -> Manage FBA Inventory -> Send/replenish inventory

2.  Now specify how your products are packed, in addition to the number of units you're sending.

3.  Select who is responsible for prepping your goods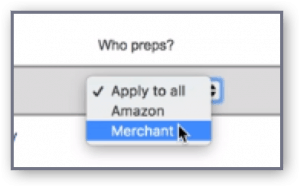 4.  Download the shipping labels via PDF

5.  Finally, you just need to create and approve the shipment so Amazon knows they can expect the goods.

Choosing a 'Ship From' Address
The destination address can have significant implications on your freight cost and transit time. Optimize your shipping by selecting the closest FBA Fulfillment center to your supplier (port of destination).
Amazon doesn't allow you to pick which warehouse your shipment ultimately goes to, you can still increase the likelihood of optimal placement by specifying that your goods are coming from a warehouse close to the FBA facility you desire instead of your supplier's address. For example, if your goods are coming from Taiwan and the closest FBA warehouse is in New York, coordinate the delivery of your goods to a forwarder's warehouse in New York.
Shipping your goods
Now that your freight shipment is prepared and approved on Seller Central, you can now finally ship your goods.
This is a very important step and it's very important that you get it right. Making any errors here can be very costly.  The two most important considerations when shipping your goods are:
Shipping individual pallets vs full containers
Packing and labeling your products
Shipping Individual pallets vs full containers
If you're shipping less than container loads (LCL), it may be worthwhile to consider sending a full container load (FCL).
This is because every shipment has a tipping point where sending less than a container load (LCL) can become more expensive than FCL and scaling up actually lowers your per-unit cost.
You can determine if your shipment meets that tipping point by the number of cartons you want to send. If it's enough to fill around 50-65% of a 20-foot shipping container (12-15 cartons), you may end up paying the same price as you would for a full container… or more!
Additionally, a 40-foot container usually costs just 20-25% more than a 20-foot container and offers double the volume.
There are other downsides to LCL, too.
When shipping by LCL to Amazon, your cartons are mixed with those of other LCL shippers. That means the container you're sharing is prone to be opened multiple times by shipping carriers and customs officials, creating a greater risk that your goods will be damaged or delayed. It also adds to the shipping time.
Of course, if your goods don't sell, you may end up losing that money in other ways such as warehousing and storage fees, not to mention the cost of goods.
You can use this FBA shipping calculator to get an estimate of what your best course of action might be.
Packing and labeling your products
Generally speaking, the optimal product to sell online is one that is small and light — easy to ship, even easier to store.
While finding that ideal product is not always possible, there are some steps you can take to ensure that your large or heavy products don't get hammered with high shipping charges and warehouse fees.
The first step is to recognize the difference between your product dimensions and packaging dimensions. It may seem obvious, but failing to account for the inches added by packaging is not uncommon.
These are the different dimensional categories on Amazon:

The second step is to avoid OVERSIZE products whenever possible.
Oversize goods are not only more expensive to ship, but they can also cost a fortune to warehouse.
If your package dimensions have any measurements that border a higher product size tier, you will be charged for even the slightest bulge, bump, or packing tape overhang. Amazon is very precise with measurement. Every inch matters.
Thinking you can game the system? You can't. Amazon's strict procedures and automated measuring equipment prevent (and penalize) even the 'cleverest' of tricks.
FBA warehouses are equally strict with labeling.
All products sent to Amazon must include a UPC (or equivalent) or specific labeling for FBA (known as an FNSKU). Only one machine readable barcode can appear on the actual product.
In most cases, it is better for FBA to use the Amazon FNSKU barcode (this avoids commingling of products with identical UPCs, while FNSKU is unique to each seller).
If your product has a UPC and an FNSKU on the packaging – the UPC must be covered up (either by the FNSKU label or a white label).
While it is up to you to purchase a valid UPC code for your product, we recommend assigning the task of labeling your goods to your manufacturer or freight forwarder.
Many (but not all) good forwarders know the proper protocol for shipping goods to Amazon and can provide advice when any questions arise.
Last-Mile Delivery Strategies
The final step in your FBA freight journey is getting your goods to Amazon's warehouse. This step is known as last-mile delivery and you can either opt to ship less-than-truckload (LTL)or small parcel delivery (SPD).
LTL vs. SPD

As a general rule, if you are shipping over two pallets, you should defer to your freight forwarder who will know all of the requirements that go with LTL, including:
Using acceptable pallets
Adhering to pallet label requirements
Providing the bill of lading (BOL)
Scheduling a delivery
If you are shipping fewer than two pallets, you may opt for SPD, which you can coordinate directly on Amazon.
You should always shop around and consider all of your last-mile options, but, for many, the decision comes down to price.
Amazon Inventory Placement Service
Amazon's inventory placement service (IPS) enables you to send all of your goods to a single fulfillment center without the hassle of worrying about shipping to multiple destinations.
This may seem like a good option at first glance, but opting into this service reduces your ability to choose which FBA center you ship to. That means you may be forced to ship your goods from China to, say, Ohio, massively increasing your costs.
Furthermore, Amazon charges you per unit if you select the service.
Still, there are specific situations in which this could be beneficial to you. You can read more about it here and enable it under Inbound Settings in Seller Central.
Warehousing and Storage
If there's one thing people underestimate about selling on Amazon, it's storage costs.
Many make the mistake of believing that Amazon's huge fulfillment centers have ample room just waiting to be occupied by their goods at little-to-no cost. This is not so.
In fact, Amazon's warehouse fees end up being burdensome and costly for sellers.
Fees
Amazon's fees change based on internal pricing considerations and seasonal factors. This is the current fee structure:
MonthStandard-sizeOversizeJanuary – September$0.69 per cubic foot$0.48 per cubic footOctober – December$2.40 per cubic foot$1.20 per cubic foot. You can view the most current fees here.
Amazon also charges long-term storage fees for any stock that is stored for longer than 180 days.
In other words, if your item isn't selling and, as such, is just taking up space, Amazon wants it out and will charge you handsomely for its storage.
These rates change often, frequently taking sellers by surprise. If your goods are already in storage at Amazon's warehouse, there isn't much you can do. For planning future inventory, there is another route that many FBA sellers take…
Third-Party Warehouses
Third-party warehouses provide an attractive storage solution for two reasons:
Storage rates are less fickle in third-party warehouses, fluctuating less often.
They provide a local ship-from address that you can use when creating your shipment on Amazon.
You can use a third-party warehouse to feed your goods to Amazon's FBA warehouses on an as-needed basis. This provides greater control over your inventory and some added insurance if your item doesn't sell as expected.
Of course, if you're sending a limited number of units, this "just in time" approach probably doesn't apply. The trick, as with most things FBA, is to understand when to employ these resources.
Conclusion
It seems scary, but like most things, once you do it a couple of times it's not so bad. If you're looking for freighting experts we can't recommend Freightos enough. You can visit them here and they'll be able to help you out with all of your freight shipping needs.